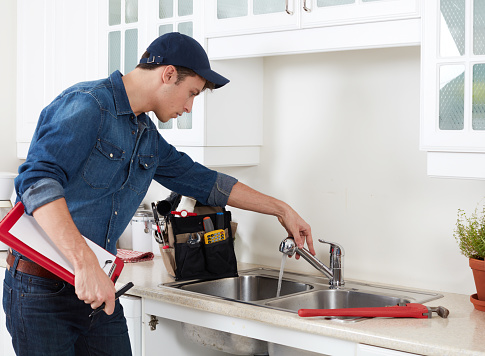 Workers Compensation for Plumbing Contractors
Plumbing Contractors work hard. The job is very labor extensive and can be physically exhausting.
Workers Compensation Insurance pays for medical expenses and lost wages for employees that are injured while on the job.
Why Do Plumbing Contractors Need Workers Compensation Insurance?
Plumbing Contractors need Workers Compensation Insurance because it helps protects your employees and your business.
There are 3 main reasons why a Plumbing Contractor needs Workers Compensation Insurance.
It protects your employees. Workers Compensation Insurance pays for medical expenses and lost wages when your employees are injured on the job. Per the U.S. Bureau of Labor Statistics, in 2019 there were 2.8 million nonfatal workplace injures in 2019. One-third of those injuries resulted in a private industry worker to miss at least one day of work.
It protects your business. Workers Compensation Insurance provides financial protection for those medical payments and lost wages brought on by a workplace injury. Plumbing Contractors without Workers Compensation Insurance can be sued by their employees due to the financial burden those employees incur from a workplace injury.
It may be required. Depending on the state, Workers Compensation Insurance may be required in the state you operate in. Most states have an employee threshold where your business is required to purchase Workers Compensation Insurance.  In these instances your business can be fined or you, as the business owner, could face jail time. Another instance where Workers Compensation Insurance may be required is by a contract. Many Plumbing Contractors take on jobs where a General Contractor or the Building Owner may require Workers Compensation Insurance be in place to step onto the job site.
Workers Compensation Musts for Plumbing Contractors
Plumbing Contractors not only need a strong Workers Compensation Insurance policy, they also need a strong overall Workers Compensation Program.
Here are
Have an Employee Safety Program. – Plumbing Contractors who have an employee safety program in place can reduce their chance of workplace injuries by as much as 60%. A safety program includes manuals, training, and regular safety meetings with employees. For more information visit OSHA.
Have a Formal Reporting System. – Employees need to know that if they get injured on the job that they know who to contact in order. Proper reporting of a claim by the employee to their employer increases the chances the claim will be handled timely and properly.
Have a Return to Work Program. – When workplace injuries do occur, it is important that Plumbing Contractors have a return to work program. A return to work program allows an injured employee to return to a light duty job while recovering from a work place injury or illness. The Bureau of Labor Statistics shows that employees who have not returned to work after a 6 month absence due to a workplace injury have a 50% chance of returning.
The Solution
Workers Compensation Insurance is a key insurance coverage for your plumbing business. It is actually one of the few insurance coverages that Plumbing Contractors have the ability to control their cost.
It is important to speak with an experienced insurance agent that can understand your business as well as identify ways to strengthen your business's overall Workers Compensation program.
Contact Farris Insurance Advisors for a review.
We look forward to speaking with you.